Popular Mechanics just posted an (intro?) to an article on Lockheed's CEV team and their design. Pretty sparse, but I guess they want you to buy the magazine (June issue). (From Rand Simberg at Transterrestrial Musings)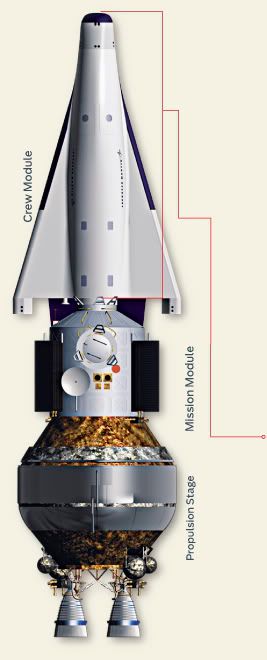 (courtesy of Popular Mechanics)

Looks a lot like an X33/X34 to me. But it doesn't glide, it drops into the ocean like the Apollo missions did. Not that I blame them, that is a much easier (i.e. cheaper) way to design a crewed capsule.

Other than that, pretty standard. It has to launch and land on one vehicle (med-heavy to heavy lift you would assume), it has to perform orbital hook-ups with (presumably) another vehicle to get it to wherever it is going, and it looks really good as a drawing.

The only new thing I notice is the use of carbon-carbon rather than tiles, like the shuttle. Not a big shock, as the tiles are not real popular lately.

Can't wait to hear more....